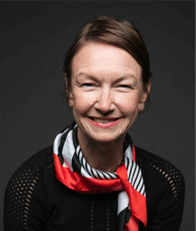 Suzanne Brunean Graduated from LBS Option Marketing, Suzanne is also a Creative Problem Solving trainer/facilitator
Suzanne works with companies searching to reinvent and/or optimize their business model.  Taking creative thinking to results
Consultant, trainer and coach, Suzanne accompanies Leadership teams during their strategy development  and the roll-out of their strategies.
Suzanne's advisory and development experiences with major international companies (Europe, Asia, USA, Brazil) working across a wide range of sectors and industries enable her to develop specific approaches that make company transformation meaningful and effective throughout the organization.            She helps teams to be, in the context of their commercial environment, responsive, agile and effectively manage the complexity of delivering perceptible value to customers.  
Specialized in Innovation, passionate and experienced trainer and facilitator in the methods: Blue Ocean Strategy, Design thinking, Agile, Creative Problem Solving and Business Model Generation..
Her experience in leadership Marketing and Business development roles (Europe and Asia) within Multinational groups, SMEs and Design agencies bring a cross-functional and multicultural view of business development.
Zones of expertize

Business model: accompanying leaders/entrepreneurs in anticipating, exploring, developing and rolling-out strategic and organizational transformation
Strategic and operational Marketing: customer driven Value creation, Creativity and Innovation (managing ideas), Positioning, Brand lifting, Category management, Private label strategy
International business development: Global expansion, developing effective market entry strategies, organizational alignment, strategic alliances and expansion planning, aligning the organization.
Key Account Management (KAM): strategic development and operational roll-out (Key Account Strategic Plan), piloting your relational strategy internally and externally
Communication: public speaking, pitching with impact
Management: Creating and developing cross-functional and multicultural teams. Developing and piloting creativity within your organization.